Customer Reviews
Light and fit great!
I bought these for my son to wear on his first chartered fishing trip. He liked how light they felt and said they fit him great. The polarized lenses really helped with the sun glare off the water. They also come with a really nice zippered case to store them in and a cloth for cleaning.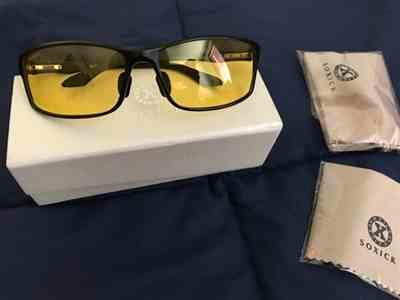 Great buy!
I am using it for night driving. The results are very impressive
Great for evening driving.
I bought these glasses because I do a lot of driving for my job and hoped they would help especially with evening driving. I have used them about a week now and love them! It definitely helps a ton for the evening by brightening things and evening out the colors/headlights which makes driving more enjoyable. I have already suggested them to a couple of my coworkers!
Great buy great glasses, thanks.
Husband loved them, worked great while he drove over night to our vacation destination over 10 hours away. They are made very well, look and feel super high end. They box although it does not affect the glasses was even well made and sturdy, I mention it because the great packaging also reflects on the company.
Better than expected!
Better than expected! I got these for my husband he drives a lot and is in need of a new pair of sunglasses. Now these are the only glasses he wears while driving and loves them! He says they are very comfortable and great quality! They come with a nice protective case and cleaning cloth.