Customer Reviews
Nice sunglasses.
This pair of sunglasses is very nice and comfortable. The lenses of the glasses are very clear, and I didn't find any light change around the edging areas. The metal frame of the glasses is adjustable, that makes me easily to make it fit my nose and face. The orange color tinting is good enough to shade the bright shine sun in the Texas. As a satisfied customer, I would recommend these fashion style sunglasses to my friends.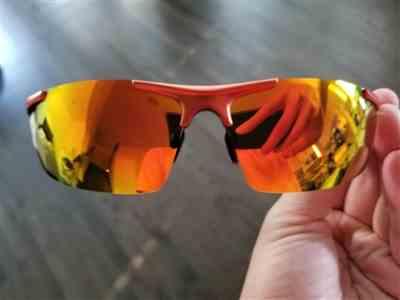 Great! Case Included
Bought the blue lenses. Just what I was looking for ... fits great even though I have a larger head. The overall size, shape, and fit of the frames was perfect, and I love the fact that the frame is metal and hinged. Blocks out the sun and glare very well without darkening at all. I should note that the glasses come with a nice - and big! - hard shell case - I didn't know this and thus unnecessarily ordered a case separately. A standard case will not fit these (too small for them).
starsGreat fit for the big headed folks out there
As title states...I have a large cranium...these glasses fit well. I would find that normal sized glasses would squeeze so hard on the side of my head, that I would often get a headache. I have not had that problem whatsoever with these. Great fit, great look and great price...the tri-factor for a great product.
nose padding is very comfortable
I have to say this sunglasses is very stylish. I bought it for my husband. He likes it very much. The product quality is very good. The length of legs are adjustable. The nose padding is very comfortable. It is also good for outdoor juggling. It comes with box and cleaning cloth. I would buy one for myself if there is a design more for women. Unfortunately, it is little bigger on me.