Customer Reviews
Durable, UV Protection, adjustable and Classy
These are Non gender sunglasses, They protect from the sun but also look really great. Perfect for a gift as the box and case they come in are super nice and made well. The sunglasses look wonderful and wear comfortable. Excellent for outdoor activity or just a day at the lake. Made really well and easy to adjust. Price is excellent.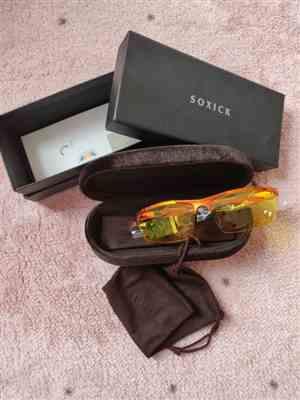 Awesome polarized Sunglasses
I got these for my husband, who's out on the water a bunch and he loves them. Says they are very comfortable to wear without digging into his head or nose like some glasses will. The material is very sturdy so he's happy for that and loves that it came with a case and wiping cloth as most don't these days. He's very happy I surprised him with these.
Great fit
These are great for the beach, or really anywhere that you get a lot of light reflected back at you. I like the difference you get when you wear polarized vs non-polarized sun glasses. Especially while fishing - they really can help you see the fish in shallow water. These look great on and feel great. They are are great inexpensive pair of good looking glasses.
Comfortable and well made sunglasses
These glasses are not only comfortable but they stay on my face and fit well. I hate when I have to constantly push glasses up and these I don't have to worry at all about it. They came in a nice case that will definitely keep them from getting broken when not in use. I will definitely buy these again in the future, you can't beat the price and quality on these that's for sure!
I stole these from my husband!
I liked these so much that I stole them from my husband the day I borrowed them. They are a nice, classic style that will work in a unisex fashion. They fit nicely and snugly on my face and do not make indents on any portion of my face. They nicely deflect the sun so I can see even in the brightest part of a sunny day. The frames themselves are sturdy and fit the lense nicely. The lense are scratch proof and of nice quality for the price.